In Qualcomm's last employee climate survey 97% of employees reported that they are committed to the success of the company, 95% said they understand how their work contributes to Qualcomm's success and 91% said they understand Qualcomm's business strategy and objectives.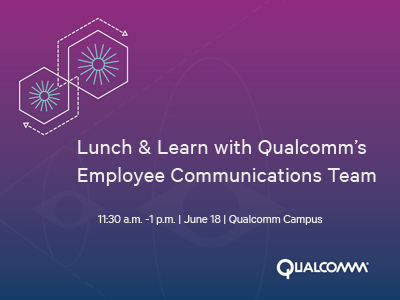 Join members of Qualcomm's award-winning Employee Communications team June 18 from 11:30 a.m. to 1 p.m. to learn how its programs and strategies are contributing to these impressive results.
Hosted in Qualcomm's on-campus museum, this presentation will focus on how the company is overcoming corporate challenges such as engaging a global workforce, integrating acquired employees and connecting employees with leadership.
You'll hear about some of Qualcomm's most successful Employee Communications programs and initiatives, and take away tips and ideas that you can implement with your own company or clients.
You'll also have the opportunity to look around the museum and learn more about why Qualcomm has been named one of Fortune's "Best Places to Work" for 16 years in a row.
Ticket Information
Member: $35.00
Non-Member: $50.00
Student: $20.00
Space is limited. Register now to secure your spot for this don't miss event!