Hear from communicators at Scripps Health as to how they leveraged crisis comms to deliver critical information during COVID-19.
Date: Thursday, November 10
Time: 11:30 a.m. – 12:30 p.m. PT
Where: Virtual on Zoom
Ticket Prices:
IABC Member: FREE
Non-IABC Member: FREE
---
About this event
COVID-19 presented unprecedented challenges for communicators in all industries, but perhaps none so much as for those working in health care. From the early stages of the pandemic when much was unknown about the coronavirus but safety concerns were at their height, to details about ongoing supply shortages, testing availability and vaccine clinics, timely communication was vital at every point and still continues to be today.
Hear from communicators at Scripps Health as to how they were able to leverage their past experiences with crisis communications to deliver critical information to the organization's employees and medical staff when they needed it most.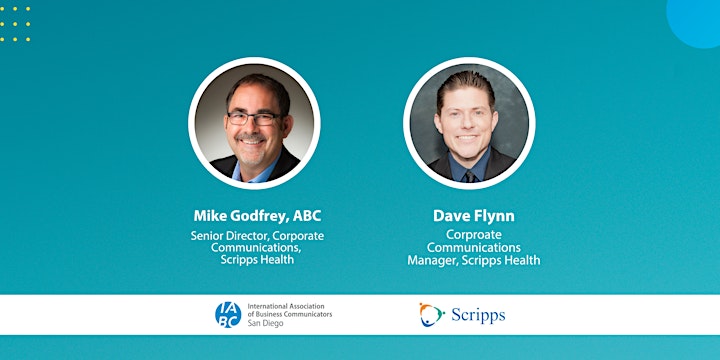 Mike Godfrey, ABC, Senior Director, Corporate Communications, Scripps Health
As senior director of corporate communications for Scripps Health, a $4 billion not-for-profit health system in San Diego, Mike Godfrey heads up communications to Scripps' 17,000 employees and 3,500 physicians, communicating everything from new employee benefits and where to head during local wildfires, to corporate strategy and how changes to Medicare will affect organization objectives. He also leads Scripps' executive communications.
Godfrey began his career as a U.S. Navy journalist, later working at several publication start-ups prior to his now 28 years in health care. His team approach to internal communications puts trust and credibility first and has effectively guided Scripps through financial and cultural turnarounds, numerous health care reforms and, recently, the COVID-19 pandemic.
Godfrey recently served on the IABC Pacific Plains Region board and is the recipient of numerous communications awards, including several IABC Gold Quills. He received his ABC accreditation as a member of the San Diego IABC chapter board more than a decade ago and is joining our board again for a second year in an adjunct position.
Dave Flynn, Corporate Communications Manager, Scripps Health
Dave Flynn is a corporate communications manager for Scripps Health, a not-for-profit health care system in San Diego. In his 15 years with Scripps, Dave has provided support for numerous strategic objectives, organizational priorities and crisis communications for the company's 17,000 employees, 3,500 affiliated physicians and 2,000 volunteers. His duties also include producing news and video content for the company's weekly and monthly internal publications. A former broadcast journalist, Dave is a graduate of Chico State University.